Why the recording don't have an audio
Q:-> Why the recording don't have an audio?
A:-> Please make sure that you have enabled sound recording in "Options -> Audio" tab before the recording start. The "Record sound" checkbox should be ticked.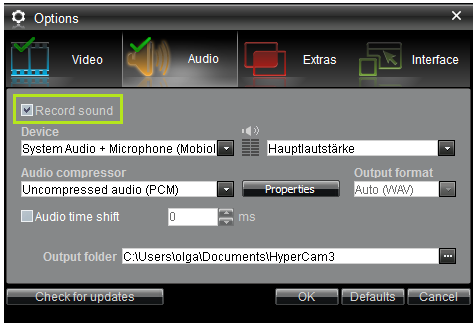 You can also enable sound recording from the main window of HyperCam 3. 
Click on the sound icon to turn on the audio recording. You can also select in the dropdown menu devices that will be used for the recording.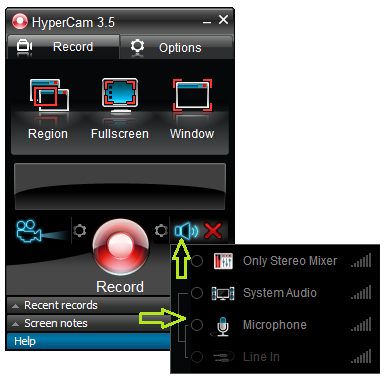 After the sound recording is enabled the main window will be changed to the following view:
Sometimes the sound recording can not be performed if some another program uses at the same time the device that was selected in HyperCam audio options. 
Please close all programs that can use microphone or Stereo Mix (if they were selected in HyperCam options). 
Try to select "System audio" in the "Device" combobox of "Audio" tab if you not sure whether some of your programs use microphone and/or Stereo Mix at the same time while HyperCam recording goes. 
Make sure also that the sound volume of your system and microphone was set properly. 
More information about sound recording please find in this tutorial.