Video Splitter 3 for macOS - Lossless Editing of Compressed Video Streams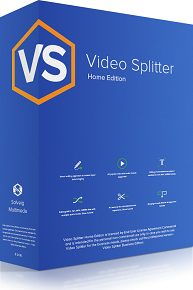 SolveigMM Video SplitterTM is an outstanding video editor to operate with pre-compressed MP4 files. The editor is lossless and fast, removing unwanted parts of the video seamlessly with just a few mouse clicks. The SolveigMM Video Splitter™ has an intuitive, user-friendly interface that is very easy to use.
Our video editor provides incredible quality and speed without using any encoding/decoding process.
For all media files smart editing, frame-accurate appoach is used. SolveigMM advanced know-how technology keeps 99% of data and only transcodes a few frames at the beginning and end of the video segments, so files are processed fast and lossless.


Features
Smart editing approach to keep 99 percents of input data in original way
Supports MP4 files (.mp4) with AVC video and AAC audio
Selection of multiple intervals in a single file

Visual timeline with thumbnails and audio wave

Two editing modes for comfortable use: remove unwanted fragments – with "Cut", and save desired fragments only – with "Keep".

Easy fragment selecting through Begin and End Markers.


Cut commercials: simultaneously delete multiple parts of a movie; remove all ads from a movie with just two actions.

Supported languages: English ()
Buy Now!
Video Splitter

¥133

Prices listed are for a single license, excluding sales tax or VAT.

Update and Upgrade policy
Customers are entitled to get an access to free updates within the major version of the product.
How it looks
System Requirements
OS X 10.10 or later, 64-bit processor
Download Now!