How to trim MP4 file on Android

Von Olga Krovyakova - 3. April 2019

This guideline shows you how to easily edit your MP4 video file on any device working under Android operating system. If you would like to save some fragments from the MP4 video file and remove others, TriMP4, the newest SolveigMM product, will do it for you in a couple of simple steps. Please see them below.
Basic Terms
Understanding of some basic terms used in this guide will help you to start using TriMP4 in the most comfortable way.
Marker is a constituent part of a fragment, wich itself consists of two markers: start and end.
| | |
| --- | --- |
| | Marker is set to a specified position in the time box |
| | The selected marker is highlighted with blue color |
Fragment is a part of video file limited by two markers to be removed or kept in a final movie. The selected fragment is marked with blue color. Fragments marked as 'cut off' are not selected and colored with grey color.
Examples of fragments are provided in table below:
| Color of Fragment | Description |
| --- | --- |
| | This fragment was set to be deleted. It will not be presented in final movie |
| | This fragment was set to be kept. It will be presented in final movie |
The Control Panel contains the main tools for file processing.


Description of the window elements is provided in the table below.
Window Element
Description

Open file button

Move the selected marker to left

Move the selected marker to right

Play/pause buttons

Stop playback button

"Trim" button: start editing process

Shows total duration of selected fragment

Shows time position of the marker

Information panel of input file: shows input file duration, its size, resolution and frame rate

Opens the menu with additional commands.

Load project: allows loading the previously saved project to TriMP4

Save project: allows saving the project to a file

Needs improvement: Allows reporting about possible improvements to developers of Solveig Multimedia

Settings: Opens additional settings window

Opens preview of output file in TriMP4
Allows selecting preview of output file with any program on the device
Allows sharing the output file with any application
Shows input/output file size information
Allows deletion of input file
1. Download TriMP4 from Google Play and install it.
2. Click the icon of TriMP4 on your device to open the application.
3. You will see the following window. Press the "Open file to edit" icon with the folder image to select the MP4 file you would like to edit and select the file for trimming.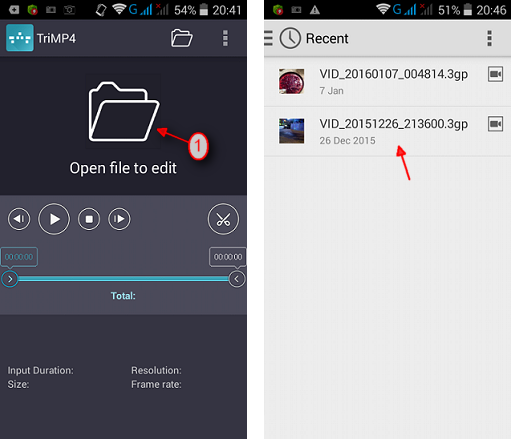 4. Press the icon of the left marker and move it to the position of the fragment beginning.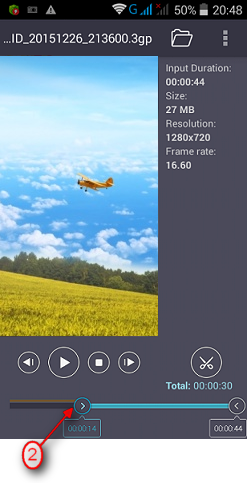 Then move the right marker the same way to the end time position of the fragment.
To find the necessary fragment you can select the marker then press press right / left arrow buttons to move the marker right or left.
You can also playback the file and move the marker to this position.

When the fragment will be selected press the icon with scissors.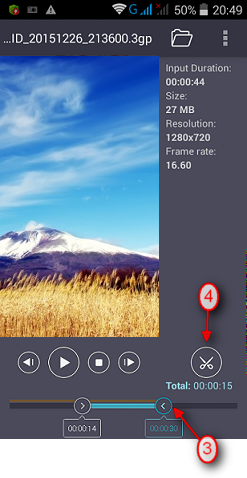 The trimming progress will be started.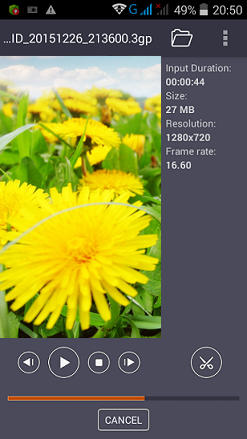 6. After editing is complete you can Preview the output file with TriMP4, select another application for preview, share it to your friends with any application on your device, see information about output/input file size and delete the input file if necessary.
To edit another file press the "Complete" upper menu. To playback output file in TriMP4 select "Preview".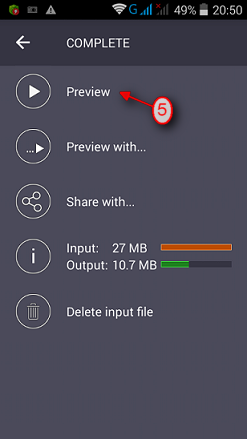 The output file will be opened in TriMP4.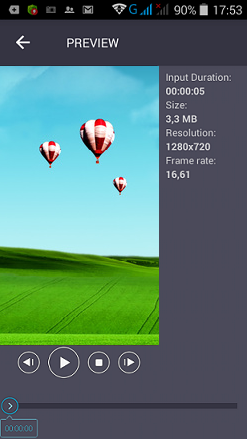 That's all! Good luck with your editing projects!

Olga Krovyakova is the Technical Support Manager in Solveig Multimedia since 2010.
She is the author of many text and video guidelines of company's products: Video Splitter, HyperCam, WMP Trimmer Plugin, AVI Trimmer+ and TriMP4.
She works with programs every day and therefore knows very well how they work. Сontact Olga via support@solveigmm.com if you have any questions. She will gladly assist you!