SolveigMM HyperCam SDK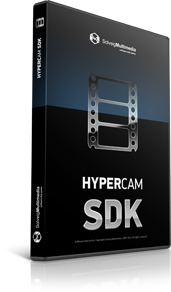 SolveigMM HyperCam SDK is a software development kit to enable programmers to develop applications for screen / sound data capture at Windows-based PC's.
The SDK is composed of DLLs, Drivers and DirectShow filters, Visual C++, sample applications, developer reference documentation and API.
The current version of SDK comes with a sample to demonstrate how to grab video in overlay mode being played back on players such as Windows Media Player, VLC, Media  Player Classic, etc.
End User products based on the SDK:
Buy now
For additional information about SDK or custom development modifications please contact us.
End User License Commercial Agreement
By installing, copying, or otherwise using the SOFTWARE PRODUCT or any UPDATES, you agree to be bound by the terms of the "Solveig Multimedia" End-User License Commercial Agreement (''EULAC''). This EULAC is a legal agreement between you (either an individual or a single entity) and Solveig Multimedia for the " Solveig Multimedia" software product(s) accompanying this EULAC, which include(s) computer software and may include "online" or electronic documentation, associated media, and printed materials (''SOFTWARE PRODUCT'').
Version History
查看 所有版本变更信息
Download
HyperCam SDK 1.0
文件: SolveigMM_HyperCam_SDK_1_0_1406_05.exe
大小: 6.05 Mb
版本/日期: 1.0.1406.05, 2014 6月 05
描述: SolveigMM HyperCam SDK is a software development kit for grabbing direct video data from the screen, including video being played back in overlay mode