AVI Trimmer+. Freeware video/movie editing, keeps quality and sync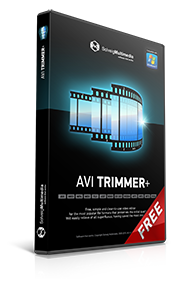 SolveigMM AVI Trimmer+ is a free lossless video editor with the group of pictures accuracy. Lightweight, smart and easy-to-use software, AVI Trimmer+ supports a bunch of video formats, maintains original quality and involves no encoding/decoding processes. Check out Features and History for complete functionality list!

What can you do with the free AVI Trimmer+ ?
- Edit movie for YouTube. Read how...
- Get rid of TV tips in your video
- Cut or edit out any video fragment
- Remove unwanted audio streams. Read How...
- and much more!

For frame accuracy quality, extended format support and other extras, check out Solveig's Video Splitter, available for commercial use. Read how to merge AVIs, edit MPEG-2 or cut WMV and another detailed tutorials.
Features
Based on SolveigMM Video Editing Engine
Supports AVI files (.avi)

DV AVI type 1, 2; OpenDML




Any video content. DivX; XviD; 3ivX, etc.

Any audio content. MPEG-1, 2 Layer I, II, III; AC3; OGG, etc.

VBR MPEG audio. Keeps the synchronization

AVI files larger than 2 and 4 GB

AVI to ASF remultiplexing




Supports Windows Media files (.asf, .wma, .wmv, .wm)

Any video content. WMV 1,2,3; MSS2; MPEG-4 AVC, etc.




Any audio content. WMAudio V 2,7,8; MPEG-1,2 Layer I, II, III; AC3, etc.

Video repair. Indexing damaged or unindexed files

Supports MP4 files (.mp4), MOV files (.mov)
Supports MKV files (.mkv), WebM files (.webm)
Supports FLV files (.flv)
Supports MPEG Audio files ( .mp1, .mp2, .mp3, .mpa)

MPEG-1 Layer I, II, III

MPEG-2 Layer I, II, III

Supports the preview of embedded subtitles for AVI, MKV, WEBM files of formats:
Supports the preview of external subtitles for AVI, MKV, WEBM, MP4 of formats:
K frame (GOP accuracy)
Cutting off several portions of a movie at one time is allowed. You can get rid of all commercials in your movie in a couple of simple steps.
File slicing by parts, duration or file size.
Can operate under Citrix XenApp 6.5
Multilingual interface: English (), German (), Russian (), French (), Italian (), Japanese (), Chinese ()
How To
How to edit your movie to put it on YouTube
How to part DV AVI type 1 or 2 by DV time codes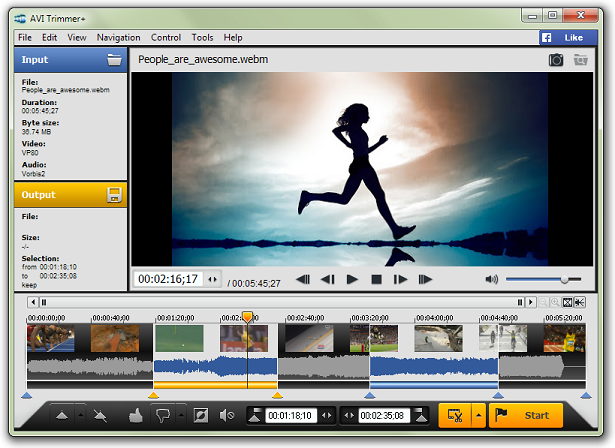 System Requirements
- Windows XP / 2000 / 2003 / Vista / Windows 7 / Windows 8 / Windows 10 operating system
- DirectX 8.0 Runtime or higher
- Appropriate video and audio decoders for preview feature
- Windows Media Format 9 Series Runtime to be shipped with Windows Media Player 9 and higher.
Windows Media Format 9 Series Runtime update (5MB)
Version History
6.1.1804.2, 2018-04-02

Features:
Revamped user interface with a modern look
Two editing modes for comfortable use: remove unwanted fragments – with "Cut", and save desired fragments only – with "Keep"
New UI controls for easy selection of fragments by placing "Begin" and "End" markers
Ability to hide media and editing slider panels
Smooth resize of Media library panel, maps, and timeline area
Ability to adjust user interface by show/hide UI controls via View Tab of Preferences dialog
Dialog with output file information after trimming
Enter/Leave Fullscreen mode buttons on video window
Fixes(crashes):
Crash on file opening when no audio decoder is installed for playing the file
Crash on disable video in preview using "Stream selection" dialog
Crash on changing zoom when waveform building in progress
Runtime error after zooming the timeline with the mouse wheel
Crash on trimming MKV with old AAC audio tag
Crash opening WMV file
Fixes(freezes):
Freezes on moving marker to an MP3 file
Freezes on editing progress on DV AVI files
Freezes on trimming WEBM with interval selected at the end of the file
Fixes (trimming issues):
Incomplete trimming output on WAV files
Occasional freeze on opening FLV files
Not all subtitle tracks were saved after editing MKV files
No subtitles were saved after editing MP4 files with external subtitle files
Error 0x80040228 when trimming AVI file with AVC video containing B-frames
The sample start time is after the sample end time (0х80040228) message on trimming AVI
Large output file after trimming ASF with g.711 audio
Invalid output filename when using mask with "save keep/cut fragments separately"
Fixes (playback issues):
No audio preview with Microsoft audio decoder on MKV with AC3
Double speed on playback of MOV files with ADPCM audio and corrupted sound
No audio waveform on some MP4 files
No sound on MKV files starting with negative sample times
Unsynchronized audio on MP4 files playback from a network drive
No sound on some MKV files
Fixes(other):
Recovery dialog fails to open after an application crash
Failure to recognize AAC audio in some MP4 files
Low-performance on opening and loading to the timeline MKV files with some void data in the header
Fixed too slow loading of MKV files
See all changes
Download Now!
AVI Trimmer+ 6.1
File: SolveigMM_AVI_Trimmer_6_1_1804_2.exe
Size: 53.2 Mb
Ver/Date: 6.1.1804.2, 2018 Apr 02
Description: Freeware video editor for fast and lossless AVI + MKV files cutting and editing