AVI Trimmer + MKV 2. Freeware video/movie editing, keeps quality and sync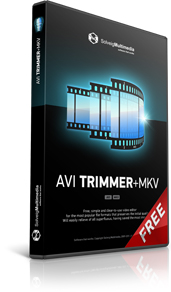 SolveigMM AVI Trimmer + MKV is a free video editor for fast and lossless AVI and MKV editing. This freeware AVI editor is small, smart, easy to use and involves no encoding/decoding processes. No video / audio degradation and out of sync problem arises after editing. All AVI and MKV file types of any size and video / audio content are supported.

With AVI Trimmer + MKV you can do the following things:
- Edit movie for YouTube. Read how...
- Get rid of TV tips in your AVI
- Cut or edit out any AVI part you want to
- Remove audio stream form AVI file. Read How
For advanced editing AVI and more media formats like MPEG-2, WMV, ASF, WMA and MP3 use SolveigMM Video Splitter. Read how to merge AVIs, edit MPEG-2 or cut WMV and another detailed tutorials.
Features
Based on SolveigMM Video Editing Engine
Supports any video content - DV, XviD, DivX, 3ivX, MPEG-4, etc.
Supports any audio content - MPEG-1,2 Layer I, II, III; AC3, etc
Allows trimming AVI files contained VBR audio without synchronization loss
Supports AVI files of the size more then 2 and 4 GB
Supports Matrosska files
Supports the OpenDML AVI file format extension
K frame/ GOP accuracy
Cutting off several portions of a movie at one time is allowed. You can get rid of all commercials in your movie in a couple of simple steps.
Multilingual interface. Chinese, Danish, English, German, Finnish, French, Italian, Russian and Spanish and more other
How To
How to edit your movie to put it on YouTube
How to part DV AVI type 1 or 2 by DV time codes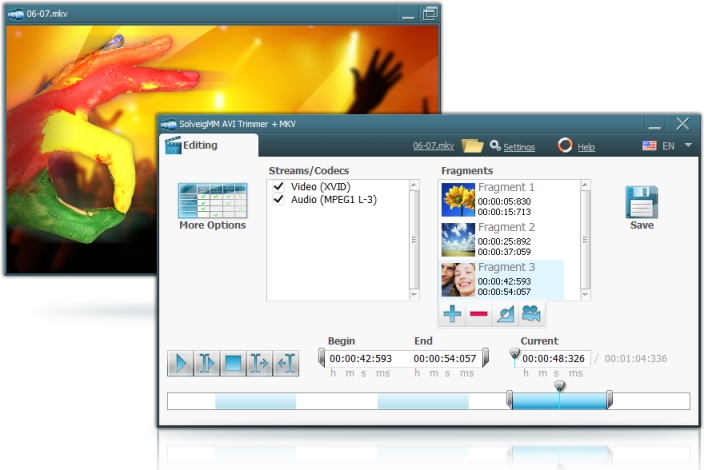 System Requirements
- Windows XP / 2000 / 2003 / Vista / Windows 7 / Windows 8 operating system
- DirectX 8.0 Runtime or higher
- Appropriate video and audio decoders for preview feature
- Windows Media Format 9 Series Runtime to be shipped with Windows Media Player 9 and higher.
Windows Media Format 9 Series Runtime update (5MB)
Version History
2.1.1307.29, 2013-07-29

Fixes:
Italian localization fixes
See all changes
Download Now!
AVI Trimmer + MKV 2.1
File: SolveigMM_AVI_Trimmer_2_1_1407_1.exe
Size: 8.77 Mb
Ver/Date: 2.1.1407.1, 2014 Jul 01
Description: Freeware video editor for fast and lossless AVI + MKV files cutting and editing