Zond 265 - HEVC Video Analyzer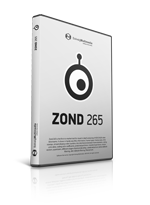 Zond 265 is the first-to-market tool for the visual in-depth analyzing of HEVC/H.265 video bitstreams. It is intended to help video developers and researchers in codec development, easily isolate and identify visual artifacts or problems with bitstream compliance, and see the encoding elements of video data.
It shows in a handy way NAL information, frames types, frames sizes, time stamps, decoding/display order counters, bits distribution between frame elements, coding units data, coding units coefficients, predicted partitions, transform partitions, motion vectors, quantizers, different stages of picture decoding - predicted picture, before deblock filtering, after deblock filtering, and final picture.
Check ZOND 265 online demo-version and ZOND online documentation
Features
Convenient frame-by-frame navigation based on the frame bars in decoding or the display order
Frames size histogram and color highlighting of different kinds of frames (I, B, P). Marking of reference frames for the current picture
Easy-to-use visual presentation of data from all levels of a video stream and decoding stages

All headers with content. Headers sizes and offsets within a stream
Highlighting of slice and related headers (SPS, PPS, etc.) that belong to a current frame
Pixels to be predicted, reconstructed, after deblocking and adaptive loop filtration
Coding units (CU): coordinates, dimension, and bit-size. Color highlighting different types of CUs (Inter, Intra)
Prediction units (PU). A spatial prediction mode of intra PU luma and chroma components. Inter PU's motion vectors, reference lists, reference indexes.
Transform units (TU): dimension and offset within CU. Luma and chroma coefficients before de-quantization.
Overlay a frame with a CU, PU, or TU grid and motion vectors

Gathering and visual presentation of bits distribution statistics to be used while encoding CU, PU, and TU data (skip_mb_flag, merge_flag, mvd, cbf_luma, etc.). Displaying results as a pie chart and table
Buy Now!
Zond 265 - Single User1

799$


(plus tax/VAT)
Buy now via
Zond 265 - Single Concurrent User2 (Floating License)

2650$


(plus tax/VAT)
Buy now via

Price is given per one license, excluding VAT.

1The license is valid for usage on one computer or for one user if it is used as floating license. It allows to install Zond on any number of PCs and use it simultaneously with as many users as licenses were purchased.

2It allows to install the software on an unlimited number of PCs but limits the simultaneous usage on different PCs/users. The number of concurrent users may not exceed the number of licenses purchased. The floating license is managed by a license server that must be run in the same intranet network as the client PCs, on which the software is used.

Upgrade policy
Customers are entitled to free upgrades within the major version of the product.
End User License Commercial Agreement
By installing, copying, or otherwise using the SOFTWARE PRODUCT or any UPDATES, you agree to be bound by the terms of the "Solveig Multimedia" End-User License Commercial Agreement (''EULAC''). This EULAC is a legal agreement between you (either an individual or a single entity) and Solveig Multimedia for the " Solveig Multimedia" software product(s) accompanying this EULAC, which include(s) computer software and may include "online" or electronic documentation, associated media, and printed materials (''SOFTWARE PRODUCT'').
System Requirements
Operating systems supported: Windows XP to Windows 7.
Linux and Mac versions are planned.
The software is launched in a web browser. For the best performance, please use Google Chrome.
Demo version is restricted with the first 10 frames to which the analysis is applied. It ships two H.265 test streams.
Version History
1.4.1302.18, 2013-02-18
Features:
Compatible with reference software HM 10
Shows video parameter set (VPS) structure
Shows supplemental enhancement information (SEI)
Extended stream statistics - CU types, Reference pictures, Intra/Inter PU sizes, TU (Y / Cb / Cr) sizes
Sorting frame / stream statistics elements (residuals, mvd, etc.) by default order or by percentage
Shows a progress while file loading / parsing
Changes:
A zoom mode changed. A filter was applied that altered visual pixels in a picture zoomed in. Cancelled
Zond is now automatically launched in Google Chrome (if installed) despite of what browser is default one.
New values in fields of HRD Buffer (bitrate, framerate. etc. ) are updated by Enter keyboard button (as well as by "Rebuild")
"Recent Files" drop-down list is not any more closed if a mouse pointer goes up
Fixes:
Sometimes if to close Zond browser tab, the process was not killed and remained running
Sometimes Intra 64x64 blocks were depicted with incorrect additional subpartition at PU / CU overlay grid
See all changes


A list of previous version to support HM 6.3, HM 7, 8, 9 etc. please find here

Download Now!
Zond 265 1.4
File: SolveigMM_Zond_265_1_4_1302_18.exe
Size: 1.11 Mb
Ver/Date: 1.4.1302.18, 2013 Feb 18
Description: HEVC Video Analyzer
Zond 265 x64 1.4
File: SolveigMM_Zond_265_x64_1_4_1302_18.exe
Size: 1.14 Mb
Ver/Date: 1.4.1302.18, 2013 Feb 18
Description: HEVC Video Analyzer, 64 bits version