Zond 265 - HEVC Video Analyzer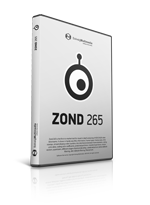 Zond 265 is the first-to-market tool for visual in-depth analysis of HEVC/H.265, AV1, AVC/H.264, MPEG-2 video bitstreams. It's an indispensable solution for developers of HEVC decoding/encoding/transcoding hardware and software. Zond 265 brings along real value boosting R&D and QA processes and reducing validation costs.
It shows in a handy way NAL information, frames types, frames sizes, time stamps, decoding/display order counters, bits distribution between frame elements, coding units data, coding units coefficients, predicted partitions, transform partitions, motion vectors, quantizers, different stages of picture decoding - predicted picture, before deblock filtering, after deblock filtering, and final picture.
Automation mode, reports generation, stream validation and quality measurement are suppoted.
Check ZOND online documentation
Download Demo Download Demo Version 4.4.1811.20 • Windows • 40 Mb Buy Now Buy Now 903.50$ Zond 265 4.4 • License for 1 PC
Testimonials
"....Again, if you're deep into HEVC codec development, or really into learning about how HEVC works, it's an essential tool..."
"As a broadcast consultant and trainer specialising in compression and delivery systems Zond 265 is an invaluable tool for analysing, visualising and demonstrating the various structures, data and buffering in an HEVC stream, the graphical interface is clear, intuitive and easy to use; stream error analysis links directly to the standards documents for quick understanding and debugging. Great tool."
"My colleagues and me searched for the HEVC analyzer for developing HEVC codec for a long time. We chose the solution with a great care, in particular, compared various tools. For a variety of reasons (visualization, simplicity, etc.), we decided on Zond 265. The test stream was opened, we checked how the theory corresponded to what should be visualized, and as a result, the work on our own codec was completed successfully. Zond got the highest mark from our team!"
"I am an independent Video technology expert which is very well connected and known in the local and international Video technology market. I was looking for the solution that should serve me for longer terms. Zond 265 was one of many solutions that I have evaluated. I do like Zond 265 as it can show VBV, bitrate and video buffer analysis on GUI and get the reports via CLI. It is also going to be recommended for all my professional colleagues in the video industry."
"I appreciate Zond 265 for its informative GUI and powerfull command-line features that allow me to export the required data into JSON format and do further processing. Zond 265 notifyes if there are values of the syntax elements that were coded not compliant to the standard, which serves well."
Features
High Dynamic Range (HDR) Detection and analysis. Parsing and interpretation of SEI units
HEVC screen content coding extension (SCC) (new)
HRD Buffer Flow: Instant insights into buffer occupancy
Bitrate Histogram. Bitrate peak values update every second in the course of consecutive frame reading
Convenient frame-by-frame navigation based on the frame bars in decoding or the display order
Frames size histogram and color highlighting of different kinds of frames (I, B, P). Marking of reference frames for the current picture
Easy-to-use visual presentation of data from all levels of a video stream and decoding stages

All headers with content. Headers sizes and offsets within a stream
Highlighting of slice and related headers (SPS, PPS, etc.) that belong to a current frame
Pixels to be predicted, reconstructed, after deblocking and adaptive loop filtration
Coding units (CU): coordinates, dimension, and bit-size. Color highlighting different types of CUs (Inter, Intra)
Prediction units (PU). A spatial prediction mode of intra PU luma and chroma components. Inter PU's motion vectors, reference lists, reference indexes.
Transform units (TU): dimension and offset within CU. Luma and chroma coefficients before de-quantization.
Overlay a frame with a CU, PU, or TU grid and motion vectors

Gathering and visual presentation of bits distribution statistics to be used while encoding CU, PU, and TU data (skip_mb_flag, merge_flag, mvd, cbf_luma, etc.). Displaying results as a table

Quality estimation. VMAF(new), PSNR and MSSIM metrics supported. Quality values can be shown as a visual graph or a map of PSNR for a frame coded tree blocks. Command line interface supports a quality wokrflow

Windows, Mac OS and Linux (Ubuntu 12.04 and above) versions of both 32 and 64 bits platforms

HEVC specification quotes for most of syntax elements. Just put a mouse pointer to any element name and get an information scope or open a specification at the necessary place

Autiomation. Detailed reports, HEVC validation conformance in GUI and CLI

Input file formats (Windows version):

HEVC/H.265 video elementary stream
AVC/H.264 video elementary stream
AOMedia Video 1 / AV1 video elementary stream (new)
MPEG-2 video elementary stream (new)
MPEG TS with HEVC and AVC
MP4 with HEVC and AVC
MP4 Dash segmented/fragmented with HEVC and AVC (new)
WebM with AV1 video (new)
Mac and Linux version are only support H.265 video
Buy Now!
Zond 265
Single User1
$1390
$903.50
(plus tax/VAT)
Save $486.50
Buy now
Zond 265
Single Concurrent User2 (Floating License)
$2990
$1943.50
(plus tax/VAT)
Save $1046.50
Buy now
Price is given per one license, excluding VAT.

1The license is valid for usage on one computer or for one user if it is used as floating license. It allows installing Zond on any number of PCs and use it simultaneously with as many users as licenses were purchased.

2It allows installing the software on an unlimited number of PCs but limits the simultaneous usage on different PCs/users. The number of concurrent users may not exceed the number of licenses purchased. The floating license is managed by a license server that must be run in the same intranet network as the client PCs, on which the software is used.

Update and Upgrade policy

Customers are entitled to minor and major version updates and upgrades free of charge – within one year after purchase. After the 1-year period expires, you can get access to updates and upgrades by purchasing a maintenance license. Please refer to the EULAC for more information.
End User License Commercial Agreement
By installing, copying, or otherwise using the SOFTWARE PRODUCT or any UPDATES, you agree to be bound by the terms of the "Solveig Multimedia" End-User License Commercial Agreement (''EULAC''). This EULAC is a legal agreement between you (either an individual or a single entity) and Solveig Multimedia for the " Solveig Multimedia" software product(s) accompanying this EULAC, which include(s) computer software and may include "online" or electronic documentation, associated media, and printed materials (''SOFTWARE PRODUCT'').
System Requirements
Operating systems supported: Windows XP to Windows 10, Ubuntu Linux 12.04 and above, Mac OS 10.9 and above.
Demo version works for 21 days and is restricted with the first 50 frames to which the analysis is applied. It ships two H.265 and two H.264 test streams.
Version History
4.4.1811.20, 2018-11-20

Features:
Interlaced HEVC video support
No-reference PSNR for AVC video
Average quality metric values over the entire stream
Fixes:
MPEG-TS files multiplexed with packets size greater than 188 bytes now can be opened correctly
Ability to open HEVC streams without IDR/CRA/BLA NAL units
See all changes
Download Now!
Zond 265 4.4
File: SolveigMM_Zond_265_4_4_1811_20.exe
Size: 39.81 Mb
Ver/Date: 4.4.1811.20, 2018 Nov 20
Description: HEVC Video Analyzer
Zond 265 x64 4.4
File: SolveigMM_Zond_265_x64_4_4_1811_20.exe
Size: 53.67 Mb
Ver/Date: 4.4.1811.20, 2018 Nov 20
Description: HEVC Video Analyzer, 64 bits version
Zond 265 Linux 3.7
File: SolveigMM_Zond_265_3_7_1704_26.deb
Size: 61.31 Mb
Ver/Date: 3.7.1704.26, 2017 Apr 26
Description: HEVC Video Analyzer for Linux
Zond 265 Linux x64 3.7
File: SolveigMM_Zond_265_x64_3_7_1704_26.deb
Size: 64.55 Mb
Ver/Date: 3.7.1704.26, 2017 Apr 26
Description: HEVC Video Analyzer for Linux, 64 bits version
Zond 265 Mac 4.1
File: SolveigMM_Zond_265_4_1_1807_17.pkg
Size: 45.82 Mb
Ver/Date: 4.1.1807.17, 2018 Jul 17
Description: HEVC Video Analyzer for Mac OS X