Wie kann ich Video Splitter registrieren?

Von Olga Krovyakova - 29. März 2019

Der Artikel beschreibt, wie man in 3 einfachen Schritten Solveig Multimedia Video Splitter registriert.
1) Open Video Splitter by clicking on its icon or from Start / Solveig Multimedia / SolveigMM Video Splitter.

2) Click on the "Sign up or Login" button to start the authorization.

Picture 1
3) The browser with the webform will be opened, please fill in the required information.
Enter your email address and click the "Log in" button.

Picture 2
4) If you try to register Video Splitter at the first time, please click the "Forgot your password" to set your password or "Log in with a one-time code" to get the temporary code to your email address.

Picture 3
4a) If you select "Forgot your password", please go to your email inbox, you'll get the email from us with the link to set your password, click it please.

Picture 4
Then enter the password to special fields and click the "Confirm" button. After that the authorization will be completed and you can return to Video Splitter application (Picture 7).

Picture 5
4b) If you select "Log in with a one-time code", you'll get the temporary one-time code to the specified email address.
Enter this code and click the "Confirm" button.

Picture 6
You'll see the following message afterwards. Close the browser and return to Video Splitter application.

Picture 7
5) Switch to Video Splitter. Select your Edition in the dropdown menu of the "Welcome" window and click the "Get Started" button.

Picture 8
Enjoy your experience with Video Splitter!
If you have already passed the authorization or have already registered Video Splitter, but would like to change your Edition to another one (e.g. from Free to Home / Business / Broadcast), then you can do it from Help / Register... menu item.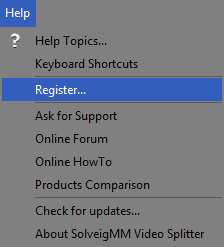 Picture 9
3) Geben Sie Ihren Lizenzcode in das geöffnete Fenster und klicken Sie auf die ''Aktivieren''- Schaltfläche (Abbildung 3).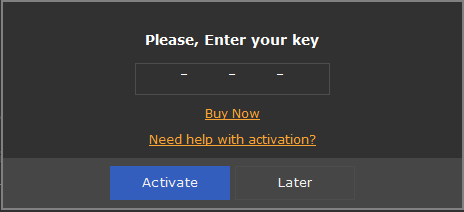 Picture 10
4. Check your license info or enter it if not available. Then click "Activate" again.
Don't forget to agree with "Privacy Policy", please.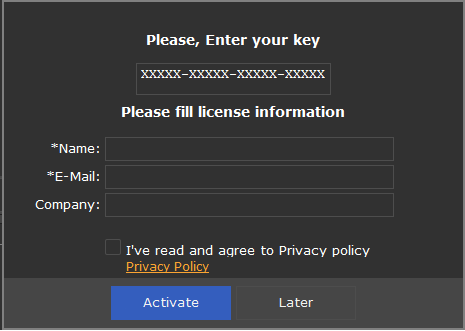 Picture 11
Thanks for reading!
---
Verwandte Themen:

Wie kann ich HyperCam 3 registrieren?
Wie kann ich eine AVI-Datei mit der Video Splitter bearbeiten?
Wie Sie das Solveig Multimedia WMP Trimmer Plugin activieren?
---

Olga Krovyakova ist seit 2010 Technical Support Manager bei Solveig Multimedia.
Sie ist Autorin zahlreicher Text- und Video-Richtlinien für Produkte: Video Splitter, HyperCam, WMP Trimmer Plugin, AVI Trimmer+ und TriMP4.
Sie arbeitet jeden Tag mit Programmen und weiß daher sehr gut, wie sie funktionieren. Wenden Sie sich bei Fragen an Olga über support@solveigmm.com.
Sie hilft Ihnen gerne weiter!