How to register purchased SolveigMM Video Splitter
You have purchased SolveigMM Video Splitter, but don't know how to register it with its license key?
Please read the short guideline below.
Before the registration please make sure that Video Splitter was installed correctly as the standard non-portable version.
The "Create portable installation on the removable or network disk" checkbox should not be checked while the installation as the portable installation needs the special license for it.
To register Solveig Multimedia Video Splitter please do the following:
1. Launch SolveigMM Video Splitter
2. Press ''Activate'' button in the evaluation window or the "Help"-"Register" menu to start registration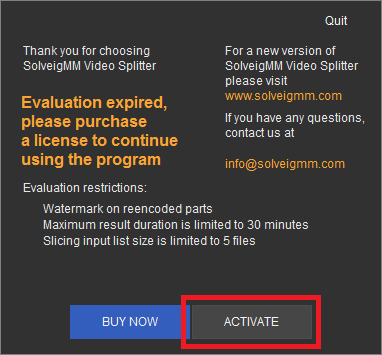 Figure 1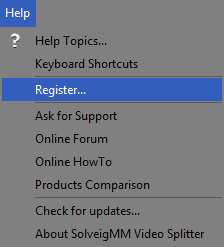 Figure 2
3. Enter your license key into the activation window and press ''Activate'' button.

Figure 3
4. Check your license info or enter it if not available. Then click "Activate" again

Figure 4
---
Related topics:

How to register HyperCam 3
How to edit AVI file
How to register purchased SolveigMM WMP Trimmer Plugin
---