Inaccurate trimming

Von Olga Krovyakova - 12. Juli 2019

Q:->The start time does not coincide with the assumed begin time; its off by 5 to 10 seconds sometimes. The end time is perfectly correct. What may cause this inaccuracy?
A:-> Such a behaviour can be encountered with SolveigMM AVI Trimmer, SolveigMM WMP Trimmer Plugin, SolveigMM Video Splitter.

These products operate with K-Frame accuracy for AVI, ASF files.
Video sequence encoded usually consists of groups of pictures (GOP). GOP consists of Key frame (that is first one in GOP) and delta frames. Key frame is encoded independently as a statical picture but delta frames are predicted from K frame and can't be decoded without K frame.

Thus to provide a user with fast and a video quality lossless video editing, our products fulfill trimming tasks with K Frame accuracy.
That means that all output fragments will be started with K frame.
The scheme below depicts the difference between K-frame and Frame accurate editing: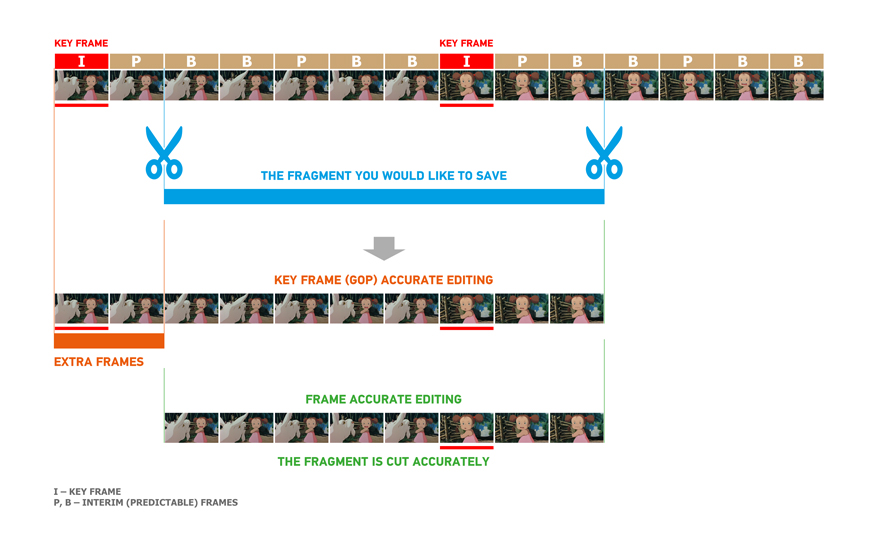 Olga Krovyakova ist seit 2010 Technical Support Manager bei Solveig Multimedia.
Sie ist Autorin zahlreicher Text- und Video-Richtlinien für Produkte: Video Splitter, HyperCam, WMP Trimmer Plugin, AVI Trimmer+ und TriMP4.
Sie arbeitet jeden Tag mit Programmen und weiß daher sehr gut, wie sie funktionieren. Wenden Sie sich bei Fragen an Olga über support@solveigmm.com.
Sie hilft Ihnen gerne weiter!