How to move your HyperCam license to the other PC

Von Olga Krovyakova - 1. April 2020

According to the Licensing Policy, a license for the HyperCam can be activated and used on one PC. But what to do if you need to change your PC?
This guideline will help you to move your license from one PC to the other (HyperCam version 5 or higher is required).
1. Launch your HyperCam.
2. Open the "Hamburger" menu and chose "About"


3. Push the "Delete license" button in the "About" window. It is necessary to have an active Internet connection to correctly delete your activation info.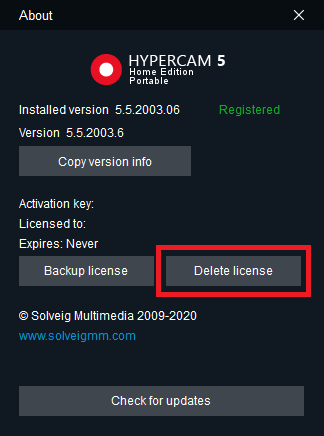 4. Install HyperCam 5 on the new PC and register it.
If you need to re-activate your license after your PC's hardware or OS upgrade, please contact our technical support and specify the license key to reactivate.

Related topics:
How to register HyperCam



Olga Krovyakova ist seit 2010 Technical Support Manager bei Solveig Multimedia.
Sie ist Autorin zahlreicher Text- und Video-Richtlinien für Produkte: Video Splitter, HyperCam, WMP Trimmer Plugin, AVI Trimmer+ und TriMP4.
Sie arbeitet jeden Tag mit Programmen und weiß daher sehr gut, wie sie funktionieren. Wenden Sie sich bei Fragen an Olga über support@solveigmm.com.
Sie hilft Ihnen gerne weiter!