How to move your HyperCam license to the other PC

By Olga Krovyakova - April, 1 2020
According to the Licensing Policy, a license for the HyperCam can be activated and used on one PC. But what to do if you need to change your PC?
This guideline will help you to move your license from one PC to the other (HyperCam version 5 or higher is required).
1. Launch your HyperCam.
2. Open the "Hamburger" menu and chose "About"


3. Push the "Delete license" button in the "About" window. It is necessary to have an active Internet connection to correctly delete your activation info.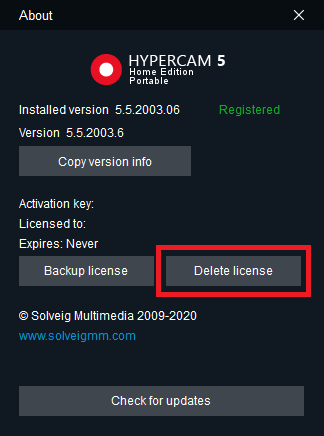 4. Install HyperCam 5 on the new PC and register it.
If you need to re-activate your license after your PC's hardware or OS upgrade, please contact our technical support and specify the license key to reactivate.

Related topics:
How to register HyperCam



Olga Krovyakova is the Technical Support Manager in Solveig Multimedia since 2010.
She is the author of many text and video guidelines of company's products: Video Splitter, HyperCam, WMP Trimmer Plugin, AVI Trimmer+ and TriMP4.
She works with programs every day and therefore knows very well how they work. Сontact Olga via support@solveigmm.com if you have any questions. She will gladly assist you!