How to cut a video online

By Olga Krovyakova - September, 30 2021
If you don't know how to cut a video online, SolveigMM presents a convenient and quite simple application for online video cutting — HTML5 Video Editor. After using this special software, you won't need to try other programs. Video functionality of the HTML5 Video Editor can help you to make cool videos with transitions, do text overlays and smart rendering. More information about features is here.
How to cut a video online with HTML5 Video Editor?
Using the HTML5 Video Editor you can:
cut video file online;
trim video online — you can delete unnecessary fragments with just a few clicks;
split video online;
edit video and audio stream.
However, you can not crop a video online (for example, to remove black borders). The editor does not support this function.
How to use
1. To cut a video online, you should get access to the SolveigMM software.
2. Next you run the application to trim video/to cut video/to do any editing by going to the web browser.
3. Then drag the media file or several files you want to edit from the video folder to the file area in the Media section.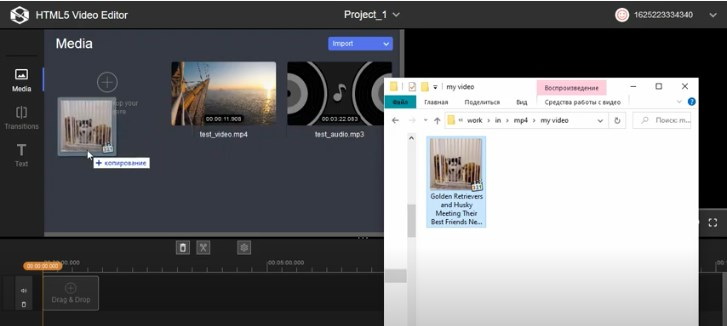 4. When the file/files are loaded, place it/them on the timeline to start editing. If you are uploading several video files, you should pay attention to their order — they must be placed one after another in the right order to perform the intended actions (for example, add video transitions).

5. Use a time marker (there is only one in the online editor) to set video intervals. It can be used to split the original file placed on the timeline into parts, using the button with scissors to confirm the action of cutting video. Further, the resulting parts can either be deleted, or saved, or you can add transitions between them.

6. Click the Save button to start the editing process. At the end of the process the editor will offer to follow the link with the created file (clicking on the link will open a separate tab in the browser) or download the file by clicking on the Download button.

Watch how to cut a video online with HTML5 Video Editor
Frequently Asked Questions
How to cut a video online for free?
To cut video online for free, use the trial period of the HTML5 Video Editor by SolveigMM. Using this application, you will get fast, high-quality and easy-to-implement results. In addition, you can use our software not only as an application for video cutting, but also as an online video trimmer, online video splitter, as well as perform many other audio and video editing processes with it.
How to cut audio from video online?
If you need to cut audio from video online or replace the audio track of the original video with another, you should consider using the other program. At the moment you cannot cut only audio track or delete audio or video separately with our program. But you can still mute the original audio track or add additional sound to the original audio track.
Do you want to edit a video online (including cut video online) using cloud storage quickly, easily and efficiently? Get access to a trial version of HTML5 Video Editor. Starting to use our editor, you will understand that online video editing can be convenient, have a high-quality result, make work easier for you and your employees, and increase the efficiency of performing the tasks you have conceived. Request access to the demo version of the HTML5 Video Editor from SolveigMM to improve your productivity right now in creating new mega-cool video courses, reviews, reports, programs, etc.
---
Related topics:
How to add transitions in video editor HTML5
How to merge videos online
---

Olga Krovyakova is the Technical Support Manager in Solveig Multimedia since 2010.
She is the author of many text and video guidelines of company's products: Video Splitter, HyperCam, WMP Trimmer Plugin, AVI Trimmer+ and TriMP4.
She works with programs every day and therefore knows very well how they work. Сontact Olga via support@solveigmm.com if you have any questions. She will gladly assist you!