04 April 2018
ZOND 265 Incorporates the Netflix VMAF Metric for Quality Estimation
TOMSK, Russia, April 04, 2018
The new edition of HEVC video analyzer Zond 4.1 incorporates the Netflix VMAF metric for quality estimation
Solveig Multimedia, a leader in video editing and customizable multimedia, announces a new edition of its Zond 265 – HEVC Video analyzer, version 4.1. Solveig Multimedia and its partner nablet will showcase the new software and functionality at NAB Show in Las Vegas on April 9–12, 2018 (booth SU13713).
For over five years, Zond 265 has been the best-in-class tool for analyzing the 'High Efficiency Video Coding' (HEVC/H.265) standard. SolveigMM empowers software developers with a HEVC bit stream analyzer – instrumental to design and implementation of H.265-compliant codecs. The software reveals NAL information, frames types, frames sizes, time stamps, decoding/display order counters, bits distribution between frame elements, coding units data and more details.
Zond 4.1 now supports the Netflix's Video Multi-method Assessment Fusion (VMAF) metric for quality estimation. The software leverages VMAF to compare an original YUV file with a preloaded video file. Correlating with human perception, this metric enables more precise video assessment after compression. Since relying on manual visual testing at all times proves unrealistic, VMAF attempts to address the issue by utilizing samples from Netflix content to help design and validate the algorithms.
The latest Zond edition comes on the heels of a major update – version 4 – that greatly expanded the product's compatibility matrix. The novelties of Zond 265 v4 encompassed
AOMedia Video 1 (AV1) codec support in WebM format
MPEG-2 codec support as video elementary stream
Twitch and YouTube streaming of game sessions or video blogs
HEVC Screen Content Coding Extension (SCC) support, and more.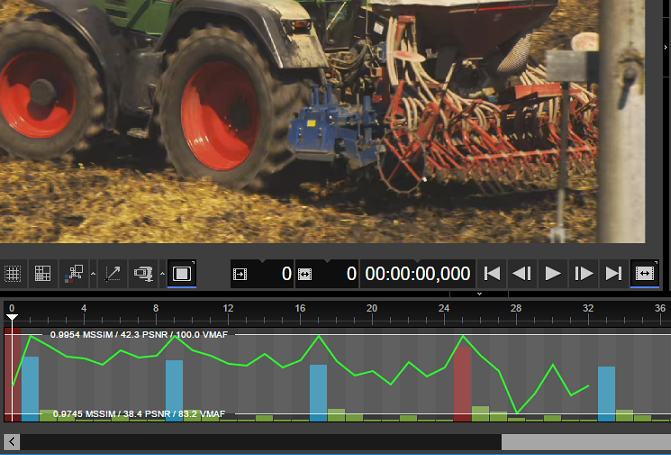 Pricing and availability
The new Zond 265, ver. 4.1, is available for purchase at Solveig's website starting at $1390 excl. VAT (per single user license).
The review how to use VMAF in ZOND:
https://www.solveigmm.com/en/support/howto/netflix-vmaf-how-to-measure-video-quality-with-vmaf-in-zond-265/
About Solveig Multimedia
Founded in 2003, Solveig Multimedia has been a leading manufacturer of digital audio, video and multimedia solutions for end users and professional developers. Solveig's product line includes Video Splitter, HyperCam, Zond 265 and AVI Trimmer + MKV.
For more information please contact:
pr@solveigmm.com
Solveig Multimedia