WMP Trimmer Plugin 3
Convierta su Windows Media PlayerTM en un
editor multimedia
Guarde y edite cualquier video o audio cargado en WMP
Cree seminarios web, elimine anuncios de televisión, supervise el contenido para niños, etc.
Experiencia sin pérdidas, calidad intacta
Plugin ligero que se integra perfectamente en WMP


With the trim functions of SolveigMM WMP Trimmer Plugin you expand the Media Player to a Media Editor.
PC Praxis, 09/08


SolveigMM WMP Trimmer Plugin lets you edit portions of media files directly from Windows Media Player, without compromising quality or synchronization
Bitsdujour.com


A useful extension: step by step to the first website for the WMP, but it is not the case that some formats are not supported and that you have to purchase the full version for just under 25 EUR to cut longer videos. Anyone who is looking for a standalone program for cutting can look at the same manufacturer for Video Splitter.
Michael Humpa | CHIP software editor
Características
Compatible con archivos AVI, Windows Media, WAV, audio MPEG, MPEG-2, MPEG-1, AVCHD, MP4, MOV, MKV, FLV, WEBM
Extrae el sonido a un archivo de audio separado
Silencia el audio en fragmentos seleccionados sin volver a codificar
Funciona bajo Citrix XenApp 6.5 si fuera necesario
Mantiene la sincronización
Compatible con la vista previa de subtítulos integrados y externos
Software ligero, inteligente y fácil de usar
Formatos de archivo compatibles
ARCHIVOS AVI (.AVI)
ARCHIVOS WINDOWS MEDIA
(.ASF, .WMA, .WMV, .WM)
ARCHIVOS WAV (.WAV)
ARCHIVOS DE AUDIO MPEG
(.MP1, .MP2, .MP3, .MPA)
ARCHIVOS MPEG-2 (.MPG, .VOB, .TS)
ARCHIVOS MPEG-1 (.MPG, .DAT, .MP1)
ARCHIVOS AVCHD (.M2TS)
ARCHIVOS MP4 (.MP4)
ARCHIVOS MOV (.MOV)
ARCHIVOS MKV (.MKV)
ARCHIVOS FLV (.FLV)
ARCHIVOS WEBM (.WEBM)

Eng

Rus

Deu

Jap
Elija su WMP Trimmer Plugin
Para casa
Edición precisa de K-Frame (GOP)
WMP Trimmer Plugin Home Edition
Licencia para un solo usuario
Uso autorizado por el Acuerdo de licencia de usuario final y destinado únicamente para un uso personal y no comercial.
Para la empresa
Marco preciso edición precisa
WMP Trimmer Plugin Business Edition
Licencia para un solo usuario
Uso autorizado por el Acuerdo de licencia de usuario final y destinado para un uso profesional.
Requisitos del sistema
Sistema operativo Windows XP / 2000 / 2003 / Vista / Windows 7 / Windows 8 / Windows 10
Windows Media Player 9 o superior; WMP12 también es compatible
Ofrecemos descuentos para organizaciones académicas y organismos sin ánimo de lucro.
El programa de asociación OEM está disponible para WMP Trimmer Plugin Business Edition.
Para solicitar el código de cupón que deberá usar durante la compra, por favor, póngase en contacto con nosotros
Política de actualización y mejoras
Los clientes tienen derecho a obtener acceso a las actualizaciones gratuitas dentro de la versión principal del producto.
Así es su aspecto
WMP Trimmer Plugin 3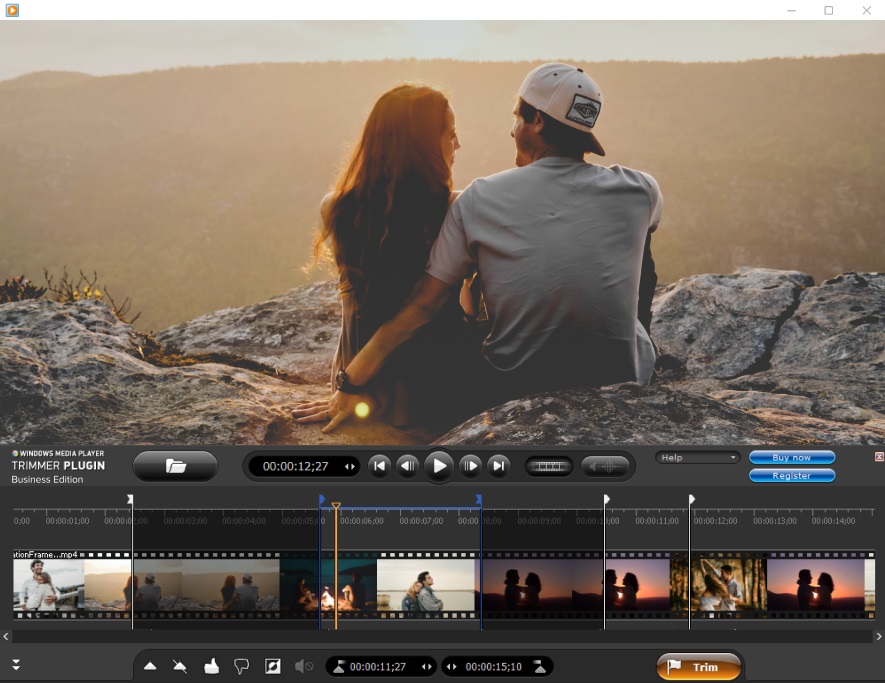 SolveigMM WMP Trimmer Plugin 3 is a tool that allows transforming Windows Media Player into a full-fledged Media Editor. WMP Trimmer plugin allows editing parts of multimedia files directly from Windows Media Player while maintaining intact quality and being lossless in synchronization. By downloading the software, you can create webinars, remove TV ads, censor content for children, create ringtones for mobile phones and many other editing actions for video and audio.
Features and Capabilities
Possibility of extracting audio from a video, muting audio on segments of a video without re-encoding, and frame-level editing.
Helps to chop media files into multiple pieces.
Possibility of muting the sound in the selected fragments without re-encoding or extracting the audio track into a separate audio file.
Preview subtitles support.
Advantages
SolveigMM WMP Trimmer Plugin 3 is powerful, smart and easy-to-use.
Visually appealing software that will help you save, edit, trim, create, convert video.
Compact interface.
Before buying the full version of the plugin, you can download a free trial version of the video editing plugin to rely not only on the reviews of other trimming tool users.
Safe.
Scalability. Suitable for both home and business.
Windows Media Player Trimmer is what you need for easy video editing. All that is required is software download, install it and run. Thanks to the intuitive interface your further work will be simple. And if you don't understand something, you can use our video instructions. Download SolveigMM WMP Trimmer free right now or install the paid version of WMP Trimmer Plugin 3!