Play/Pause
Mute/Unmute
SolveigMM Video Splitter 8.0
4.7
(1 165)
smart rendering video-audio editor for lossless cut and join ensures top-notch quality, accuracy and performance.
Enjoy lossless editing with no slowdowns

Seamlessly remove unwanted video parts with just a couple clicks

Cut and join up video
and audio streams with pinpoint accuracy

All that – through an intuitive interface!
Visit our blog to get more info on the Video Splitter's latest version
CHIP Netherlands, Peter Marinus

Solveig achieved these excellent speeds by not re-rendering video material during an editing

PC World, Steve Horton

SolveigMM Video Splitter is a promising app that's worth watching

CHIP Magazine, Mareile Heiting

The program interface is so clear that the user can immediately start video editing without preliminary study.
Features
Smart editing approach to ensure input data integrity

All popular video and audio formats supported

Editing of embedded and external subtitles for MP4, MKV, WEBM, AVI, TS formats Show tutorial

Supports multiple audio tracks editing ( MP4, MKV, WEBM, AVI, TS )

Ad removal for unhindered movie experience Show tutorial

Merging of media files for all supported formats
Show all version features
Hide all version features
Keeps up to 99.9% of the video quality unchanged
Edits all popular video and audio file formats
Media files merging for all supported formats
File slicing by parts, duration or file size
Supports editing of embedded subtitles for MKV, WEBM, AVI, TS files of UTF8, ASS, SSA, GAB2 formats
Supports editing of external subtitles for MP4, MKV, WEBM, AVI, TS of ASS, SRT formats
Cut commercials: simultaneously delete multiple parts of a movie; remove all ads from a movie with just two actions.
Batch mode editing: unlimited editing tasks in a single run (business version only!)
Command line interface accepts XML files with batch task descriptions (business version only!)
Can be used on portable storage devices, eg. USB Sticks (portable license required)
Can operate under Citrix XenApp 6.5
Supported languages
eng

deu

chi

rus

ita

fra

jpn
Supported file formats
MXF, AVCHD, MP4, MOV, MKV, WEBM, FLV, AVI, DV AVI, ASF, WMV,
MPEG2(TS,PS,VES), MPEG1(SYS, VES), MP1, MP2, MP3, WAV
Supported codecs
H265/HEVC, H264/AVC, MPEG-1, MPEG-2, MPEG-4, DIVX, XVID, MJPEG, WMV1, WMV2, WMV3, MPEG Audio, PCM, AC3, AAC
Choose your Video Splitter
Detailed Plan Comparison
---
Up to HD
Up to FullHD
Up to 4K
MXF
CLI
Batch Manager
HEVC
K-frame Accuracy
Frame Accuracy
Max output duration - 15 min
No Watermarks
Join files
Max input files - 2
Max output duration - 30 min
Offline activation
Technical support
Licensed by
End-User License Agreement
End-User License Agreement
End-User License Agreement Commercial
End-User License Agreement Commercial
License is valid for
The license is valid for use on up to 5 PCs, but only on 1 PC at a time.
Cancel subscription
You can cancel your subscription at any time.
Updates
All updates and upgrades are free of charge as long as the subscription stays active.
Lifetime license users are entitled to receive free updates within the purchased major version only (eg. 8.1-8.2).
We provide discounts to academic and non-profit organizations. To claim the coupon code to use during checkout please contact us.
How it looks
Check out the clear and user-friendly product interface!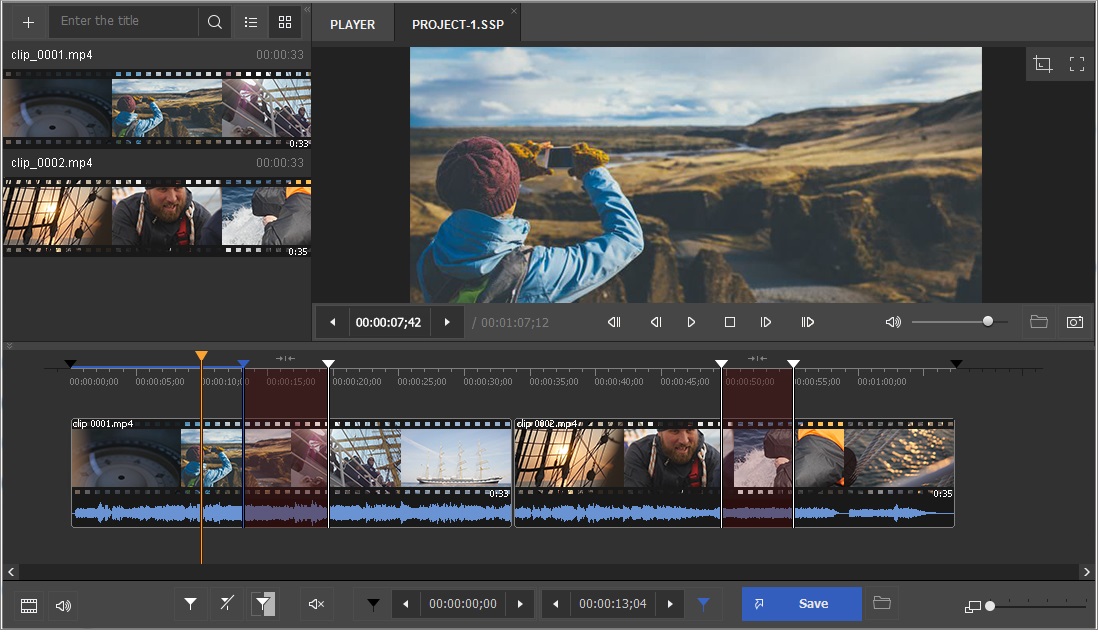 Main screen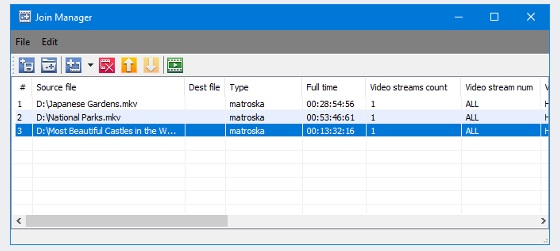 Join Manager to merge several files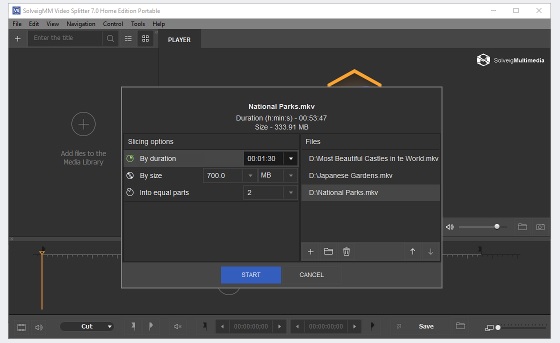 Slicing dialog to cut your videos by parts, duration and size


Batch Manager to process several tasks in the one pass
Video Splitter DPI scaling
How to cut out commercials from video?
How to remove audio track from media file?
How to edit video files with subtitles?