10 August 2016
SolveigMM will share cutting edge multimedia technologies at IBC 2016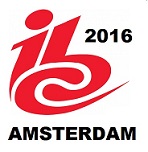 On September 9–13, 2016, RAI Amsterdam will host the hottest global show for Media & Entertainment pros – IBC 2016. As in the previous years, Solveig Multimedia is on board – ready to showcase new video editing and analysis solutions, and make them stand out from the crowd of 20K+ exhibitors and 50K participants.
Visit us at Hall 8, booth 8.B09 for real-life demos!
SolveigMM doesn't come empty-handed. We'll unveil a major update to our flagship Video Splitter, version 6, that encompasses a bunch of new features and improvements:
• Brand-new interface with a flexible timeline
• Media Control for easy access to project source files
• Facilitated fragment selection. Select fragments by placing Begin and End markers on the timeline
• Quick editing mode controls. Remove unwanted fragments – with "Cut", and save desired fragments only – with "Keep"
• Adaptable timeline for multiple inputs.

Video Splitter consistently delivers on its traditional benefits:
• Highest output quality. 99,9% of data remains unchanged
• HEVC Smart Editing. Frame and K-frame accuracy with optimal quality
• Mobile extension. Android Smart Editing Technology delivers K-Frame video editing on mobile
• Renowned Video Editing SDK at the core of the solution allows software developers to easily create multimedia tools within a solid framework.

Power users and professional app developers will sure enjoy new functionality in Zond 265 HEVC analysis and debugging software:
• Faster translucent overlays of encoded file image (PU, TU, QP, Bits, RefIdx, PSNR) for high-resolution files. Accelerated mapping, scaling and mouse response.
• Support of MP4 (MPEG-4 Part 12) file format for HEVC/H.265 and AVC/H.264
• JSON report for on-the-fly debugging in HEVC/H.265 and AVC/H.264.

Make sure you drop by at booth 8.B09, Hall 8!
To schedule an individual meeting with SolveigMM Management Team in a desirable time slot, please contact us at info@solveigmm.com.

See you soon in Amsterdam!