02 March 2017
Video Splitter 6 is named the Best 2016 Software according to PCMag Russia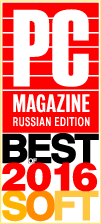 For Immediate Release
Video Splitter 6 is named the Best 2016 Software according to PCMag Russia
March 2, 2017: SolveigMM is glad to announce a brand-new certificate of recognition for its flagship Video Splitter 6 solution. This time Splitter has been awarded a prize in the 'Russian software: achievements and innovations' category 'Russian software: achievements and innovations' category established by PCMag Russia.
The magazine editors have duly noted the 99,99% editing accuracy delivered by SolveigMM's solution as opposed to a plethora of celebrated competitors (Movavi Video Editor, Windows Movie Maker, Pinnacle VideoSpin, SONY Vegas Pro, etc.). The software supports MPEG-2, AVI, WMV, ASF, MP4, MKV, MOV, AVCHD, WEBM, FLV, MP3, WMA and other video file formats.
The unique technology behind Video Splitter ensures record performance in video data processing, and allows for flexible saving and cutting of unlimited fragments into a single file or several files.
Solutions awarded with PCMag Russia's shield belong with the most influential and significant tech developments and reveal the best price-to-functionality ratio in their respective market segments.
PC Magazine/Russian Edition is a Ziff-Davis Publishing licensed mag, one of the pioneers of the Russian IT press since 1991. This edition targets IT pros and power users focused on bleeding-edge technology and latest computer software and hardware trends. Aside from the prize in question, PCMag Russia hands out regular "Editor's choice" awards based on tests and product reviews, as well as the comprehensive "Product of the year" in the general IT category.
About Solveig Multimedia
Solveig Multimedia is a leading developer of video editing software employed for resolving complex tasks in digital TV, video surveillance, multimedia, medical research and other data-intensive verticals. The company has been on the market since 2003, shipping its award-winning out-of-the-box solutions (Video Splitter, HyperCam, Zond 265) and SDKs to a broad audience spanning home users and video production pros.
For more information please contact:
Olga Krovyakova
PR Manager
pr@solveigmm.com
Solveig Multimedia