03 February 2011
Solveig Multimedia Video Splitter And HyperCam Is Now Certified For Windows 7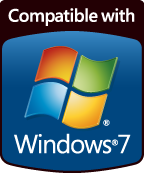 For immediate release
February 03, 2011
Contact: Olga Krovyakova
Company: Solveig Multimedia
Title: PR manager
Phone number: +7 3822 492 609 ext 105
Solveig Multimedia Video Splitter And HyperCam Is Now Certified For Windows 7
Solveig Multimedia announces today about successfully certification of its two main products SolveigMM HyperCam and SolveigMM Video Splitter and receiving official mark of Windows 7 Compatibility.
Compatible with Windows 7 standard of excellence means customers can be assured smooth, safe compatibility of SolveigMM products HyperCam 3 and the Video Splitter 2 running on Windows 7 machines.
SolveigMM HyperCam is the outstanding screen capture tool that can be used for wide range of purposes from education and gaming to medicine and business.
The second tool, SolveigMM Video Splitter, can easily and lossless trim your movie or clip or join several parts of them with just few mouse clicks.
Solveig Multimedia products also support Windows Vista and Windows XP, and can be run on either 32- and 64-bit operating systems. They are available for a free 21-day trial or purchase at
https://www.solveigmm.com
. These two multimedia solutions will be very helpful for people making the shift to the new platform. With this new release, SolveigMM once again demonstrates its leadership in developing multimedia tools for wide range of tasks.
About Solveig Multimedia

SolveigMM was founded in 2003 as a unit of the Elecard Group. The basic direction of its activity is designing Windows-based software intended to win challenges with the most complex video editing tasks for both consumers and professionals. Solveig Multimedia company programs and SDKs support cutting-edge video standards and formats like MP4 ISO, AVCHD, WEB M/HTML5 video, H264/AVC, Matroska, MPEG-1, MPEG-2 and more. For more information, please visit
https://www.solveigmm.com
###
SolveigMM Video Splitter home page:
https://www.solveigmm.com/en/products/video-splitter
SolveigMM HyperCam home page:
https://www.solveigmm.com/en/products/hypercam
Company web-site:
http://solveigmm.com
Contact information


Contact: Olga Krovyakova
Title: PR Manager
Company: Solveig Multimedia
Tel.: +7 3822 492 609 ext. 105